Organized by the opposition party charged with financial fraud, the protest rally was attended by nearly 1,000 people, the police have said.
MEP Viktor Uspaskich, leader of the party, criticized the prosecutor who filed charges against the party, along with the court and the entire judicial system.
The Labor Party, which currently tops popularity polls in Lithuania, held the protest rally after a Vilnius court rejected its plea to return 6.4 million litas in grants to the party. The grants had been arrested for the purpose of civil claims.
The party's leadership said arrest of the money was banned by recent amendments. However, the court ruled that the law could not be applied to earlier rulings.
The protest action kicked off with the Lithuanian national anthem, with protesters holding flags of Lithuania, Labor Party and the European Union. Among participants were people from various parts of Lithuania.
On the eve of the protest, the Judges' Association issued a communiqué, saying that the calls from parliamentarians to protest against the legal system undermined the state.
In the criminal investigation, charges have been brought against the Labor Party itself, Uspaskich and Vytautas Gapšys, leader of the party's political group, and two former employees.
Prosecutors say that the party's documents failed to include about 25 million litas in income and 23 million litas in spending in the 2004-2006 period.
16 April marks four years of court proceedings in the case, however, judges were unable to question a single witness over the period, as hearings are adjourned every time due to health conditions of defendants, non-participation or replacement of lawyers and other reasons. Prosecutors believe the proceedings are procrastinated on purpose.
According to a poll published on Saturday, the Labor Party is currently the most popular political force in Lithuania. Some 18.8 percent of respondents pledged to cast their votes for the party, shows a survey published in the Lietuvos Rytas daily.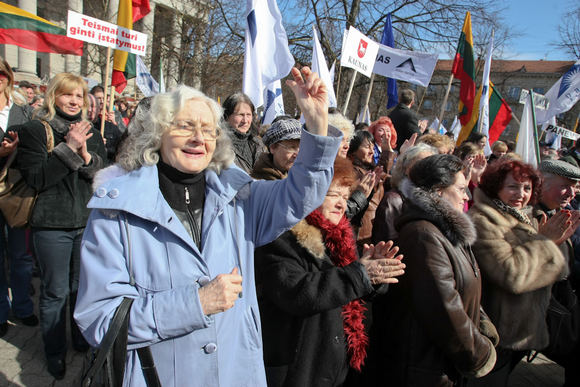 15min.lt/Juliaus Kalinsko nuotr. /Rally outside the Parliament