This week featured sharp criticism of the Lithuanian government in its efforts to contain the pandemic, however in terms of managing the crisis brought about by this pandemic, Lithuania looks quite positive in the context of the European Union, and in terms of the pace of vaccination, we are among the leading countries.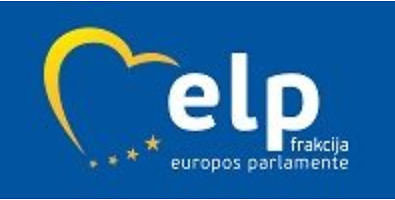 EPP logo
"I have a list of all EU countries and what their lockdowns look like, and there is not a single country which would not have had a lockdown. I can describe very well the situation in Belgium, which has been affected by the attempt to relax the quarantine for Christmas, but this has resulted in an increase in infections. Immediately afterwards, everything was closed once again, then relaxed once more. Now hairdressers remain closed, restaurants haven't been open since October last year, and a curfew has been in place all winter and continues to this day, which will probably be relaxed from mid-May. Stores only work if you reserve a time slot ahead of time," the MEP stated.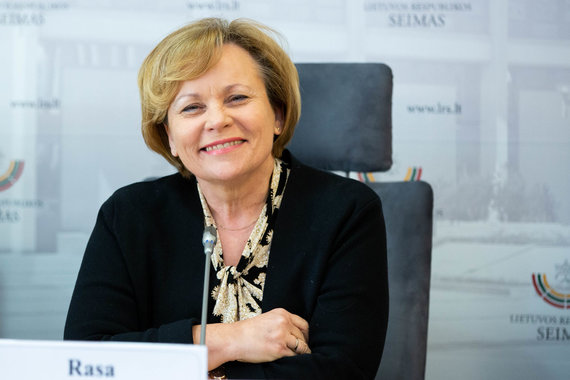 Rasa Juknevičienė. Žygimantas Gedvila / 15min photo/
MEP Andrius Kubilius echoed her in that the situation is difficult across all of Europe, and viewing Lithuania in this light, there is no real reason to pepper the government with criticism. The MEP believes that gradually relaxing restrictions is the correct approach, which is not considered or carried out lightly. The vaccination rollout is proceeding successfully, and the number of vaccinated citizens is rising. Based on the vaccination rate, Lithuania is in third or fourth place among EU nations, with only Malta and Hungary racing further ahead using the Sputnik vaccines.
"This allows the government to cautiously begin relaxing lockdown restrictions while monitoring the situation," says A. Kubilius.
The MEP described the reproach targeting the government as pathological criticism: "We know that there are some commentators out there becoming ever more Gražulis-like, and who are more concerned with standing out and showcasing themselves."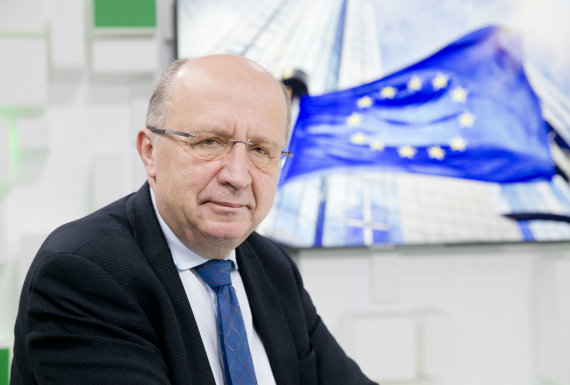 Andrius Kubilius, Photo Valdas Kopūstas /15min/
Lockdown, working remotely, and economic and environmental uncertainty leaves people physically and mentally exhausted, and so it is natural that some "fluctuations" develop.
"Fluctuations happen in various countries. On April 13, the German government approved the national disease control law's amendments, which for the first time grant the option of taking stricter action to contain the pandemic, including imposing a curfew. We are a small country, Vilnius isn't a large city and a curfew is probably not necessary, which allowed us to make do without such drastic measures.
"In Poland, restrictions were relaxed, but then imposed yet again. There isn't an expert or politician in the world who would know with certainty as to what specifically must be done, what the situation will be in a week or two, or what measures work best. Today, we now know better what must be done, but this came with the benefit of hindsight… we don't even know how long we will have to tolerate living the virus in our lives, especially now that new strains of the virus are emerging," said MEP R. Juknevičienė.
Lithuania is currently mulling the creation of an "opportunity passport," and a "green certificate" is being discussed at the EP, the goal of which would be to allow for citizens between countries to interact and allow for the free crossing of borders within the EU space. However, this will not be solely a proof of vaccination document, but it is planned for it to be granted to individuals who undergo a full course of vaccination, and who have antibodies or a negative COVID-19 test. It is planned to make it available to EU citizens in June 2021.
"Those wishing to travel, go and get vaccinated. I predict that in summer, all comers will be offered vaccination," R. Juknevičienė said.
"The pandemic is a grave concern, but I already see the light at the end of the tunnel and can predict that the people's moods will improve. Perhaps some might be a little ashamed of the criticism they levied against the government over this period, and something that will also change is that we will see the emergence of those who will begin shouting how well they advised the government, and the government did it," A. Kubilius optimistically predicted.
The second wave of the virus hit Lithuania in September 2020, and by the end of the year when this government entered office, the number of infections per day reached almost 4,000. However, within ten days, the trend reversed downward, but the opposition's representatives, manipulated the information while presenting real statistical data, showing growth in infection numbers immediately after the October elections.
While overviewing Lithuania's political situation, A. Kubilius also mentioned a lack of leadership in the opposition as the shadow prime minister fights the opposition leader. "In Lithuania, great problems arise from the left-wing of politics, and I do not see those problems being resolved in the near future," he said.
Toward the conclusion of the talk, R. Juknevičienė addressed the LVŽS: "I would like to ask the "Farmers" to make no mention of vaccination matters for a time, at least until they resolve the question of D. Kepenis. Not a single other political party has such a figure in their ranks. After all, he is Karbauskis' man… D. Kepenis makes baseless claims against science, complete absurdities, misleading people and the "Farmers'" representatives still dare to talk about vaccination problems and chaos."
As they bid each other farewell, the MEPs wished for the Lithuanian people to enjoy the coming spring weather and learn to live harmoniously under pandemic conditions.
This article was edited by expert copywriter and proofreader Vicki Leigh. Find out more about her professional writing and editing services at twoflowercactuscreative.com
Išsirink planą ir skaityk be ribų
Mėnesinis
planas
Pirmas mėnuo - 1€,
vėliau po 3,5 €/mėn.
Apsimoka
Metinis
planas
Mokant iš karto
už 12 mėn. – 33,50 €
Apmokėti
Įvesk savo mobilųjį numerį, atsiųsime kodą
Į mobilųjį išsiuntėme kodą. Įvesk jį ir skaityk toliau