Reporters and politicians are used to Grybauskaitė's style – meandrous answers or replies frank as a hit in one's nose.
The president does not always share her thoughts – only when she thinks that there has accumulated a sufficient body of questions that need to be answered by stating her strict and unwavering position. That is when the president allows reporters to approach her in some public event or other; or gives one of her very rare interviews to a news outlet of her choosing. During the term of her predecessor Valdas Adamkus, reporters could come to the approachable president at any time and give a spontaneous question on topics of the day.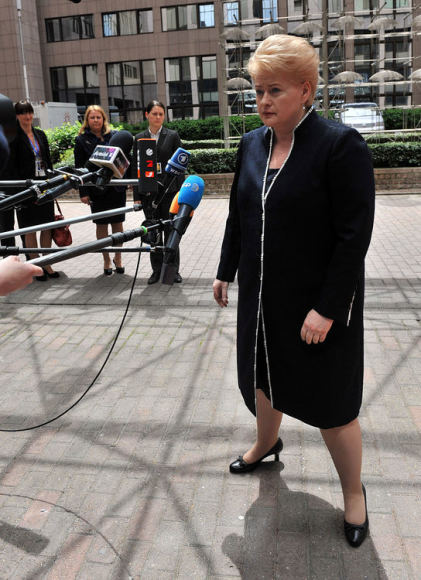 AFP/"Scanpix" nuotr./Kai prezidentė Dalia Grybauskaitė kalba tai, kuo tiki, ji stovi tvirtai įsispyrusi į žemę.
Instructions to voters
Grybauskaitė's latest stunts happened last week when she visited the recently renovated Liubavas Manor.
After looking around the palace, the state leader gave sharp criticism to Vilnius Mayor Artūras Zuokas as well as his coalition partners, the Social Democratic and Labour Parties. Vilnius Council has recently passed a resolution – addressed, among others, to the president – urging decision makers to increase quotas for heat energy plants. That way, the council said, heating bills in Vilnius and Kaunas could go down.
The president retorted that this would only reduce heating prices in Vilnius and Kaunas a little, while the rest of Lithuania would have to pay more for electricity, increasing profit margins of heating monopolists.
To make sure no one missed the point, the president added: "And I repeat – this was something voted for by Zuokas' 'Taip' [movement], the Social Democrats, and the Labour Party. I'd like to draw everyone's attention – be very careful about voting for people who promise you the world but act against your interests."
All explanations by the accused party leaders fell on deaf ears of the president.
The Price Commission, too, received its share of scold for not taming heating suppliers, particularly Vilnius Energy. The commission was told to come up with more initiatives "to prevent such a wild and unrestrained profiteering."
Vilnius Mayor Zuokas had experienced the president's wrath before. Several months ago, he proposed to look for alternative candidates in the next presidential election. Grybauskaitė took note of the hint at her expense and returned that competition was a good thing outside politics too: "When I ran for president, there were seven candidates, so people could choose from more candidates. And I should tell the Mayor of Vilnius that competition is always useful, especially when it comes to Vilnius heating sector."
The infallible president
The state leader, who talks to politicians and officials in a rather strict tone, does not ever admit her own mistakes.
In December 2009, she and the then minister of foreign affairs, Vygaudas Ušackas, had divergent interpretations on parliament's findings into secret CIA prisons that allegedly operated in Lithuania. Asked to comment on the matter, the president said, ironically: "If Mister Ušackas knows better than the [parliamentary] commission and has researched the matter so thoroughly, I wish him personal success." Ušackas had to pursue professional success in a different post, since he soon fell out with the president and had to resign. And the CIA prison still has not been found.
During a press conference this July, when she was reviewing her year in office, Grybauskaitė seemed manifestly annoyed by a question relating to events in Garliava. "Aren't there other problems in Lithuania?" the president exclaimed in a raised voice, after being asked if she herself was not upsetting the rule of law. "Why should I explain myself and draw theoretical comparisons?"
The president had said that a court ruling obliging the daughter of Drąsius Kedys to be returned to her mother's custody was being implemented, even though Kedys' sister Neringa Venckienė was still keeping her niece with her and openly defying the said ruling. At the moment, prosecutors are trying to have Venckienė's legal immunity revoked to get her tried for noncompliance with a court decision.
In July's press conference and her annual address, Grybauskaitė criticized the State Tax Inspectorate for, according to the president, loosely interpreting government decisions regarding illicit enrichment and ignoring politicians.
"I hope that the State Tax Inspectorate is listening to what I am saying and will tackle the issue earnestly next year," Grybauskaitė ordered. She did not care to respond to the Inspectorate's claims that it did not do any of the things the institution was accused of.
It was not before last week that Grybauskaitė had a meeting with law enforcement leaders and discovered that, in fact, suspicions were brought not only against officials but against politicians as well, including several parliament members. The president did not say a word of apology to the Tax Inspectorate, only noting that the extent of illicit enrichment in Lithuania was huge and that law enforcement institutions must mobilize all resources to fight the problem.
Mayor Zuokas, who has been repeatedly targeted by the president's arrows of criticism, says, in turn, that her air of infallibility, of not being obliged to explain herself, is flawed. "Such form of communication is alien to any creative person today. Imagine a class with a very strict teacher who only says 'don't do that,' 'hands on the table,' 'you did it wrong.' Such environment does not nurture personality."
Neighbours
Grybauskaitė's harsh tone is not reserved for teaching Lithuania's politicians and officials – it is used to talk to foreign countries too.
In May, Grybauskaitė met with US Lithuanian community and shared her resentment of Warsaw: "I do not know the reasons behind some of the Polish politicians' decision that, for the time being, it is better to be friends with Russia, while all smaller countries are less important and can serve as scapegoats. It seems that this is the role assigned to us."
Poland's Foreign Minister Radoslaw Sikorski later noted in Chicago that "such declarations are unimaginable at the time when Polish pilots are protecting the Baltic air space."
After these verbal offences from the president, Lithuanian-Polish relations were given a pause, the end of which is not yet in sight.
The soft side
Psychologist Edita Čekuolienė comments that Lithuania's previous president Valdas Adamkus, who had spent decades living abroad, had the air of "American" immediacy, was a warm person, and did not shun even physical contact with people, even though Lithuanians themselves were not used to it. Grybauskaitė, on the other hand, is much more reserved in public and maintains distance at all times.
However, when she goes to provinces or speaks to ordinary people, the president transforms, her tone and expressions change. While strict on the stand in parliament or press briefing rooms, Grybauskaitė smiles at children, protectively leans towards elder people, chats with them about their troubles. "That indicates professionalism and a high level of sociability. It's great that she can change like that," Čekuolienė told 15min.
According to the psychologist, the school teacher-like tone employed by Grybauskaitė is conditioned by her role as the president of the republic – some things can be seen much clearer from above. However, despite her image of a dominant leader, she still manages to retain a comparatively tender side – unlike, say, German leader Angela Merkel.
Commenting on Grybauskaitė's harshness in responding to inconvenient questions or criticism, Čekuolienė reminds of the "jujitsu" effect encountered in the art of negotiation – when people "bump into their own silly question."
"It is a pity that I haven't seen that much of the president, only on TV, but her body language, which is more significant than words, gives away uncertainty. Her eyes gleam like steel and her body language – pauses, silences, voice – tells something different: I am wavering, I do not know for sure, I am uncertain," Čekuolienė comments. "The strict tone is not used to disguise uncertainty. When she is certain of something, she says so, she stands firmly, her feet slightly apart. But I've recently seen her speaking uncertainly – either it was a poorly-written speech, or she was unhappy with something."
"L'état, c'est moi"
Aloyzas Sakalas, honorary chairman of the Social Democratic Party, on President Grybauskaitė's annual address:
"One message runs across the entire address: L'état, c'est moi. The president said that, of the three pillars of a democratic state, the legislative, the executive, and the courts, only one branch – the executive – worked flawlessly.
"That is underscored by her insistent repetition of her own importance: I will do, I will veto, I will find out, etc. Such personal aggrandizement is characteristic of dictators, not leaders of democratic states. Whoever heard anything similar coming from the US president, German chancellor, presidents of Poland or Latvia? Yet this is how Belarusian and Russian presidents speak."
"Kolkhoz chairman style"
Lauras Bielinis, advisor to former president Valdas Adamkus and author of "The President," said last year:
"She speaks in the style familiar to most of our society – like a kolkhoz chairman, cuttingly, without beating about the bush. The society longs for a firm fist as it is rather depressed today. [...] But will she create conditions for the society to escape depression and the post-socialist state? I think she will only aggravate the condition."