What will happen if, after the elections, the person to head the Finance Ministry of Lithuania – and to help solve the euro zone crisis – is someone of limited prowess?
Unknown candidates
So far, no Lithuanian party has revealed a list of its candidates for hight public posts. Shadow cabinets are not an accepted practice in Lithuania.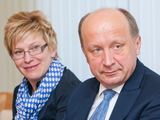 BFL/Tomo Lukšio nuotr./Ingrida Šimonytė was invited by Andrius Kubilius' conservative as an outside professional to head the Ministry
Only two parties – the Liberal Movement and the Liberal and Centre Union – plan to announce their candidate ministers right before the election or just after the first round. Others put it bluntly: We will not disclose our candidates to protect them from public scrutiny.
According to analysts, voters could make up their minds more easily if they knew not only the party's platforms but also whether they are actually staffed with people capable of running ministries and parliamentary committees.
Traditionally, the two most important posts in the cabinet – the Prime Minister and the Finance Minister – go to the party with the biggest share of the vote. The party's leader normally gets to head the Government, while the post of the Finance Minister often becomes a topic of heated debates.
"Undoubtedly, the Finance Ministry is the most important one in the Government. It influences the latter's key decisions," Nerijus Mačiulis of Swedbank tells 15min.
Outsider
Many parties, however, do not have among their ranks a suitable candidate, who must be a qualified economist and also be fluent in foreign languages. So it has happened more than once that the winning party decides to offer the post to an outside professional instead of a party member.
In 2001, Dalia Grybauskaitė, currently the President of the Republic of Lithuania and not a member of any party, was appointed Finance Minister by the Social Democrat-led Government. European Commissioner Algirdas Šemeta, too, served as non-partisan Finance Minister. The current head of the Finance Ministry, Ingrida Šimonytė, is one more such case.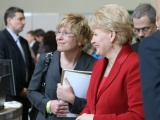 Juliaus Kalinsko/"15 minučių" nuotr./Dalia Grybauskaitė, right, once served as a non-partisan Finance Minister, too.
Admittedly, her successor will have big shoes to fill – Šimonytė did a decent job running Lithuania's finances during the economic crisis and raised the standard quite high. Not only did she manage to keep the coffers tight and negotiate relatively cheap loans for Lithuania, but her wit helped sell many of the government's rather unappealing decisions to the public. These qualities, experts say, are indispensable for a good manager of state coffers.
Besides, a Finance Minister needs to have a strong character and to be able to say "No" even to the Prime Minister himself, if he wants to splash more money than the country has.
Therefore, experts say, the future ruling coalition will have to think hard to come up with an adequate candidate to run the Finance Ministry. So far, party leaders have not demonstrated impressive grasp of public finances in election debates.
"In my personal opinion, the election debates have so far included only one person who is able to debate taxes and economy and offer constructive solutions. And that person is Ingrida Šimonytė. All other parties have demonstrated utter economic incompetence, especially when they discuss VAT exemptions, progressive taxes and say that these proposals will have no bearing on public finances," Mačiulis says.
Keeping belts tight
The finance experts warns that populist promises by some parties show their lack of responsibility regarding public finances. Therefore, he says, the future Government, too, could use a professional from the outside to run the Ministry.
"It is very important to have an expert, a technocrat in the Finance Ministry when the state is facing grave internal and external challenges. The last four years have been like that. Budget was running into deficit, revenues and expenses were unbalanced. One had to look for sophisticated ways to bring some balance. Minister Šimonytė's skills of presenting Lithuania's case to lenders and foreign investors have been crucial, too," Mačiulis notes.
According to him, the current situation is somewhat better, yet one cannot afford to relax just yet. Tensions in the euro zone will undoubtedly affect the Lithuanian economy, so the Finance Minister's job will be keeping finances stable and looking for new lenders.
"Under these circumstances, a person who does not speak English or does not fully understand how to manage public finances would spell disaster for the state. Lithuania would not be able to borrow on its own and would probably fall into the need to rely on the International Monetary Fund," Mačiulis thinks.
Vincentas Vobolevičius, political scientist at ISM University of Management and Economics, says that the new Finance Minister needs to have some political freedom to manoeuvre around those parties that wish to "help the people" with various benefits and tax exemptions.
"One thing I could wish to the future minister is political independence. Something that came in very handy for Šimonytė herself. She was not weighed by political imperatives and, at points, she veritably dictated policies to the conservative government," the political scientist says.
No splashing around
He notes that Lithuania would get into trouble if the future Finance Minister started fulfilling promises made by some parties to introduce VAT exemptions and raise minimum wages.
Vobolevičius adds, however, that the minister will not have much freedom in pursuing economic policies. Since Lithuania joined the EU Fiscal Compact and decided to open a compulsory crisis fund, freedom to manage state finances as one pleases has been significantly restricted.
"The Finance Minister will be the first one to notice that there is no money to spare. So we will probably not stray too far from the path of austerity. The only risk is that, after the election, politicians might be putting up appearances of "helping the common man" by spending borrowed money and saying that we'll pay everything off after the crisis," Vobolevičius thinks.
Optimist scenario
Gitanas Nausėda, advisor to the president of SEB bank, notes that Lithuania has committed itself to austerity and therefore the question of who will be the next Finance Minister is of limited importance. According to him, all party platforms have more or less competent sections on the economy. Nausėda's only advice to parties is that they do not lie to voters while giving promises.
"There would be nothing wrong if the parties openly admitted they'd be splashing money – instead of telling lies, as they do now, that they will extend VAT exemptions and save money at the same time," Nausėda says.
The expert thinks that Lithuania is already past the stage when it needed to look for professionals to head the Finance Ministry.
Nausėda can name a suitable candidate for the post in every party list: non-partisan Šimonytė in the Conservative Party, Rimantas Šadžius of the Social Democratic Party, Vytautas Gapšys of the Labour Party, Andrius Mazuronis of the Order and Justice Party, Povilas Gylys of the Path of Courage, Eligijus Masiulis of the Liberal Movement, Raimondas Šukys of the Liberal and Centre Union.
Nausėda adds, though, that the future Finance Minister will be someone who is not a "pure politician" but rather a person who knows economy. Otherwise, he says, the President would simply not approve the cabinet.